About a week ago I bought the MAC Pro Longwear Foundation and I promised a quick review. I am so glad that I bought it. I was skeptical at first because I was sure that it would just make my face even oilier than it is and I'd have wasted $40. But that wasn't the case at all. I put it on before work everyday around 9 AM. Most nights I go out after work so I'm not getting home until around midnight or after and I barely need to touch it up! My lovely lady at my local MAC store told me that these typically run dark, so your color might actually be lighter than you think. Make sure you try a couple until you find your match.
All you need is 2 squirts (I use more like 1 and a half) and apply evenly with a brush, not a sponge. Brushes give the best results! I was told to use brush #130 and I recommend it to the fullest, but if not any similar brush will do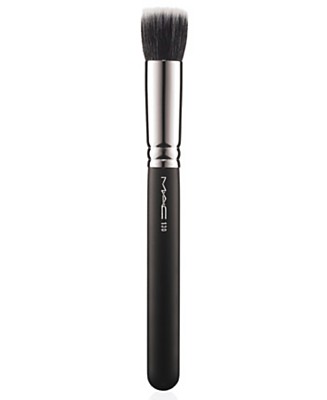 After you've applied it evenly, set it with a powder. No need for a thick coat, just a light sweep over the face. I use MAC's Mineralize Skinfinnish Natural
And after that you're done! It works wonders. My skin is naturally oily, those who can relate know that no matter what you'll probably have to use blot powder at least once a day. But it definitely lives up to it's name, because it lasts a very long time. They're made to last 15 hours! I took a 3 hour nap today, face rolled all over my pillow and it still looks great lol. Definitely recommend!! So far I love the Pro LongWear Collection. I've got the foundation, I have the lipcreme (will do a review on that if you like) that I absolutely adore, all that's next to try is the concealer!